Red and Black Raspberries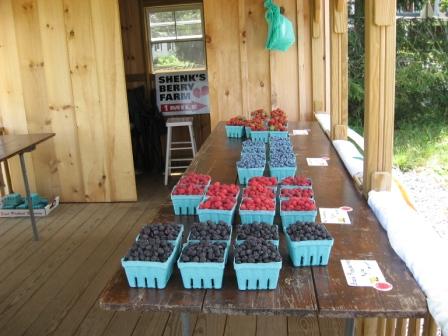 Raspberry season usually begins in mid to late June.
Check back for updates as the season approaches.
For Pick Your Own check the home page for updated picking conditions during the season.
Pick Your Own Red and Black Raspberries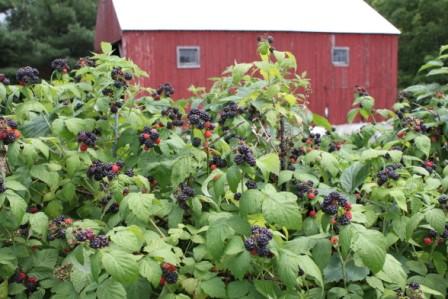 Come to the farm and park your car in our grass lot which is the second entrance off of Disston View Drive.
Bring your containers to the gazebo and we will take your name and weigh all your containers empty.
You will be directed to the section of the field which is being picked.  Sometimes this means walking a little distance.
Please pay for your berries before you eat them.
Bring your full and empty containers back to the gazebo so we can get your final weight and determine your price. We accept cash, checks and Pennsylvania FMNP vouchers. We cannot accept debit/credit.

Tips:
You may fill your containers as you wish. People use strawberry boxes, empty ice cream containers, dishpans or buckets. Bags are not recommended.
The deeper the container, the more your berries will become smashed.
We have boxes and trays available for $1.00 if you do not have containers.
When picking keep in mind that raspberries should be picked when they slip easily off the plant.
Pre-Picked Raspberries
We sell all of our raspberries  by the pint. If you would like to buy more than 4 pints of red or black raspberries it is helpful if you order them ahead of time by calling 717-626-6194. Please leave your name, phone number, and the day and time you would like to pick them up. We accept cash, personal checks, and FMNP vouchers. We cannot accept debit/credit.